Posted by

A Security Insurance Agency

on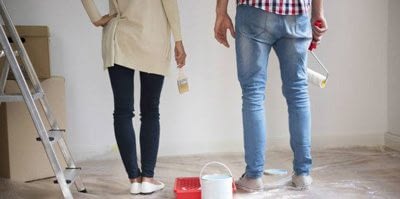 When it comes time to sell your home, you may want to ask yourself this important question: How much money should I spend on renovating this house before it's on the market?
Generally, you may want to skip any extensive remodels in your home that may delay putting your house on the market. Instead, you may want to focus on smaller renovations that help improve your home's look without compromising your budget or time frame. Here are some remodeling ideas to consider before selling.
1. Make Small Kitchen Improvements
Depending on the age of your kitchen, it might help to make some small improvements. According to Remodeling Magazine's 2016 Cost vs. Value Report, you may be able to recoup more than 83 percent of the total cost of a minor kitchen remodel. You can choose to focus on what you can renew in the space instead of a full replacement. For example, you may want to swap out any outdated hardware and faucets, re-stain the hardwood floor or reface your cabinets and drawers. You may also consider painting one or more walls in the room or upgrading an appliance.
2. Refresh Your Bathroom
An outdated or dingy bathroom may be a turnoff to prospective buyers. If you have the time and know-how, there's a lot you can do to help renew your bathroom without spending a fortune. Instead of a going for a complete remodel, consider a few do-it-yourself projects like repainting the walls, replacing light fixtures, installing a new sink, refinishing your cabinets and drawers or upgrading to a new toilet.
3. Add New Flooring
If you've lived in your house for a decade or more, there's a good chance the flooring may be pretty worn down. Keep in mind, it isn't necessary to replace all of the flooring in your home to help attract buyers, but new flooring in high-traffic areas, like your kitchen, living room or hallways, can make a big impact. You may also be able to do some repairs to existing flooring where possible. For example, you may fix your hardwood floor where there are scratches. For tile, you may replace the broken ones with new ones in little or no time at all.
4. Do Some Landscaping
First impressions are important, and your landscaping is a major part of that for potential buyers. To help keep your yard in tip-top shape, consider trimming trees and shrubs, mulching flower beds and covering bare spots with flowers.
5. Replace Doors and Windows
If your windows and doors are looking a little run-down or are letting drafts in, it may be a good idea to consider replacing them. In fact, steel front doors may add safety to your home and you can potentially recoup more than 90 percent of the cost, according to Remodeling Magazine's 2016 report. Don't forget to highlight new windows or doors as selling features to prospective buyers.
6. Fix Up Your Siding
Your siding may be one of the first things prospective buyers see when they come to your home. If your siding is in need of some upkeep, you may want to consider some inexpensive tasks like power washing the exterior, repainting, filling in cracks or holes or repairing trim. If you're uncomfortable doing these maintenance tasks yourself, contact a siding professional to help.
7. Replace Your Garage Door
Like a front door, a garage door can encounter a lot of elements. In time, the door may not work properly and look very weathered. While you can improve the facade with paint or replacing hardware, an older garage door (10+ years) might be worth replacing. A new garage door can cost anywhere from $500 to $2,500, depending on the material you choose, the features of the door (such as windows or insulation), and whether you need one, two or three doors.
Renovating your home before putting it on the market may sound expensive, but there are many ways to upgrade your abode without breaking the bank. You just need to look at your home like a prospective buyer would and consider making changes for a greater curb appeal.
Filed Under: Blog, Home Insurance
|
Tagged With: Home Remodeling, Home Remodeling Ideas