Posted by

A Security Insurance Agency

on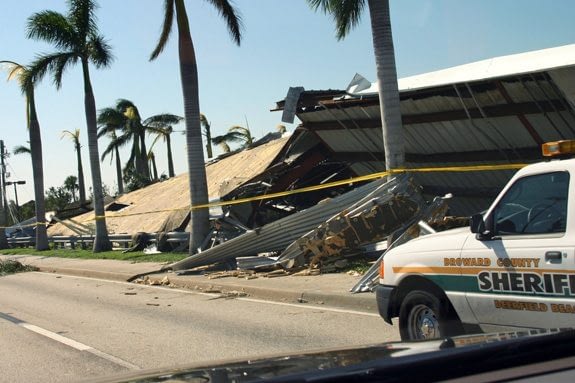 First an earthquake. Now, a hurricane. For homeowners on the East Coast, it's shaping up to be a scary week, meteorologically speaking. Hurricane Irene looks like it was far worse than the Virginia earthquake and with greater damage comes greater potential insurance headaches. Much of the damage typically caused by hurricanes isn't covered by traditional homeowners' insurance policies.
From broken windows to serious flooding, here is what homeowners can reasonably expect from standard insurance policies:
Floods
Floods — defined by insurers as any water that rises from the ground, including tidal waves, as well as destruction from rapid snow melts — aren't covered by traditional policies. To get reimbursed for water damage, homeowners would need additional flood insurance, which is provided by the federal government but can be purchased through an agent or insurance company. The average flood premium is about $600 annually, but rates go up to nearly $6,000 for the highest-risk coastal properties, according to the National Flood Insurance Program.
Homeowners who live in flood zones probably have this already: Many lenders won't provide these home buyers with a mortgage unless they've signed up for flood coverage. These homeowners can rest (relatively) easy; if their home floods, flood insurance will pay for that damage.
But even homes outside these zones could be at risk of flooding, says a spokesman for the Insurance Information Institute. Without coverage, homeowners could end up paying thousands of dollars to clean up the damage. If you've reached for the phone to call your insurance agent, put it back down: It generally takes 30 days for a new policy to kick in. Separately, renters can also sign up to protect their belongings from flood damage; premiums cost at least $50 a year.
Wind
Basic homeowner's policies do, however, typically pay for damage caused by winds — including broken windows, torn roofs and any interior damage from water falling into the home. Likewise, if strong winds blow tree limbs or entire trees onto a home, garage or shed. (If a tree falls onto a car, many comprehensive auto policies will cover the damage.)
But in many states on the East Coast, homeowners will have to pay a hefty deductible before homeowners' insurance policies kick in — often 1% to 5% of the total amount the home is insured for — according to the Insurance Information Institute spokesman.
Serious Damage
If a home becomes so damaged that it's uninhabitable, most standard homeowner policies will pay for a family's living expenses — including lodging and food — while the house is being repaired, says the Insurance Information Institute spokesman. (Read more on filing an insurance claim.)
Buying a Home as the Hurricane Hits
For home buyers who are just now preparing to complete the sale, the possibility of a hurricane wreaking havoc on their new home raises a big question: Who's on the hook for the damage? If it occurs before the closing is conducted, the seller and his insurance policy have to cover the damages, according to the Insurance Information Institute. On the other hand, buyers who complete the sale before the hurricane hits are responsible. But in most cases, at the very least their basic home insurance policy should kick in.
Filed Under: Blog
|
Tagged With: Buying a Home as the Hurricane Hits, Floods, hurricane, Hurricane Irene, Serious Damage, Wind