Posted by

A Security Insurance Agency

on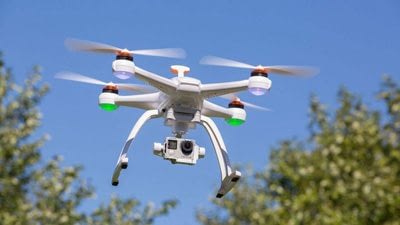 Product Offers Faster Processing of Homeowners Claims
A drone combined with analytics offers insurers a way to not only inspect and investigate claims but also process them. US DataWing Aerial Analytics incorporates data and images captured by a drone using a proprietary algorithm – a set of procedures or steps to complete a computer process – to assist in the claims process.
The Texas-based company began offering its services to homeowners' insurers last year. According to Steven Fargo, company president, the insurance industry has provided the most rapid growth, likely the result of the big data analytic product component. "When we started this, we didn't want to just provide a user with tons of gigs of information, pictures and videos," said Fargo, who noted that too much data would be difficult for the end user to manage.
He explained the typical use by an insurer after a roof sustains hail or wind damage. Rather than sending out a company or independent adjuster to climb the roof, inspect the damage and prepare a diagram, a drone is used to capture images and data. The reduction in such a manual, labor intensive process like visual analysis or inspection offers real value, said Fargo.
"Usually there's some component of individuals that are out to the homeowner's house and will put a ladder team to get up on the roof to do some type of a visual inspection," said Fargo. "Taking pictures and looking for that damage. They'll segment out the roof into 10 by 10 squares. Take a statistical sampling and then use that plus measurements to identify cost estimations and finalize the claim."
Including the expert analysis of an in-house or independent adjuster, Fargo said the insurer's inspection expense per house ranges between $500 to $1000. "Those are rough numbers, depending on the company and where the location is, to adjust a roof. They're usually getting them done in about two to three hours on location," said Fargo. "In this case, now you can have multiple drones, one person with a drone over a house capturing those images, pushing them up to the cloud and providing analysis that way."
The company's drones don't just capture images, Fargo said. "What we've been able to develop is a system where we'll arrive on location, we'll take out a very low footprint drone system, very small, and in just three to five minutes we'll fly the house," said Fargo. "Covering a little bit of overlap with the images, but about 20 to 30 images of the house top down, maybe some angled views. Then we upload those pictures directly to the cloud."
Once uploaded into the cloud based platform, the images are processed, automatically categorized and identified and then an analysis and algorithm are run on them. "What we can do is give the house dimension calculations, the roof pitch numbers, damage assessment, and shingle count cost estimation," Fargo said.
A check can be cut and a claim can be processed in about five minutes, he said. "These algorithms are machine learning algorithms based off of a neural network, meaning that it works like the human brain and that the more you feed it the smarter it gets," explained Fargo. While the drones eliminate the need for adjusters to do roof inspections, there is still a need for quality assurance adjusters. In fact, Fargo said he expects to hire adjusters at his company.
"We want to make that clear, that we're not necessarily trying to replace the adjuster. You very much need the adjuster expertise. It's critical to this to work. Instead of having an adjuster go out to each house, you'll actually have an adjuster sitting at a desk, but this adjuster is using information gathered in a speed of which it's gathered by drones," Fargo explained. "A report that's 90 percent complete, but maybe you just need to make sure that the experienced adjuster can go through and quality control that and make adjustments that they need to on the platform. What we've been able to do is enable that adjuster, that system, or that team to do 15 to 20 houses a day where they were only doing four or five houses a day."
There will be outlier claims where an adjuster will need to be involved. For example, photos of the exterior of a home with a water leak associated with hail or wind damage will have photos taken by a drone. Damage on the inside of the home, according to Fargo, can be captured via the homeowner's camera phone. "We combine that and upload that to the platform, as well, and it combines to provide a better estimation on the cost analysis," Fargo explained.
From a safety standpoint, Fargo points out that it is safer to put a small drone above a roof versus having an adjuster walk a roof. On average, Fargo said homeowners' insurers are paying around 40 to 50 percent of what they are currently spending to send adjusters out for roof inspections.
Use After Catastrophic Weather Events
He explained the integrative properties of aerial data collection are valuable during catastrophic weather events. "We've been talking about hail and wind style type claims on these one off houses," Fargo explained. "Think of a more catastrophic type claim where we've also participated in areas where tornados have ripped through neighborhood sections." In addition, he said workflows can be better managed offering another opportunity for cost savings.
"How those [catastrophe claims] get managed…is very critical. Each day that a customer or a client does not receive a check can lead to months and incur delays based off the number of contractors and materials available in the area," said Fargo. For catastrophic events like tornadoes, DataWing has manned aircraft equipped with cameras.
"We can go through very quickly in one large flight – fly the entire passage for you and determine the 100 percent lost homes that are out there," he said. "Then there are those homes that are not necessarily at the epicenter of the tornado, but really close by with some extensive damage, those are the ones that we go and then fly with the drones or do it at the same time. It's another avenue or technique to try and gather this information more quickly."
The company plans to expand into commercial insurance as well. Fargo said he sees potential during the underwriting process of commercial property. "When you can have a cost effective way of documenting and recording buildings or structures or whatever you're trying to insure, that greatly provides much more information to the underwriter to help them put together a better policy, and can even maintain that policy, because sometimes things are underwritten without a full inspection on it, or it's picked up down the road by another group, or it's been two years since you've been to the property," Fargo said.
He said the system can even provide a change analysis from one policy year to the next. "We can tell some pretty small differences. We've even got LiDAR systems to detect any types of centimeter style differences that have changed since the last time it was looked at," he said. The company has a nationwide network of subcontractors that have been rigorously vetted, Fargo said.
"We have agreements with smaller companies…that they have gone through the regulatory requirements, meaning they meet all the FAA and aviation regulation requirements to operate commercially. They meet all the insurance requirements necessary, the pilot license requirements necessary," Fargo said. "It's very much an exclusive network of people that we've vetted and know and trust. Our standards came from the Air Force and being fighter pilot instructors. We wanted to make sure that we uphold those standards with anybody that…works for us, either as a subcontractor or an in house employee."
The company is cognizant of privacy laws applicable to drone usage. "All privacy laws are managed at the state level," Fargo said. "We are very in tune with what the privacy laws state, by state. Texas passed a privacy act in March of last year. There's provisions in there that allow for this type of work to occur. It's just being aware of that and having your documentation in place."
Source: claimsjournal.com
Filed Under: Blog
|
Tagged With: commercial insurance, Drone, privacy