Posted by

A Security Insurance Agency

on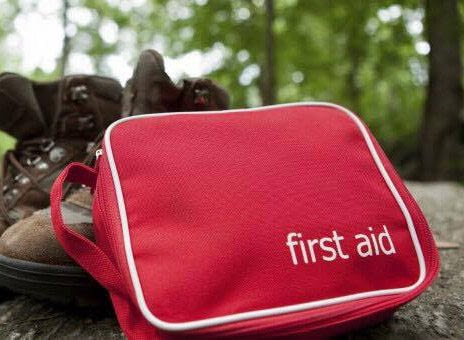 When most folks think of camping, it's all about fresh air, sunshine and outdoor fun. Unlike back-country camping, where you rough it on your own, campgrounds like those at Kampgrounds of America have amenities like warm showers, swimming pools and a store for those last-minute needs.
But even at organized campgrounds like that, keeping safety a top priority is an important part of having a good experience. Over the past six months, North America has seen flooding, tornadoes and hurricanes—natural phenomena that bring potential devastation for those who aren't prepared. But even more common are the potential dangers, which are an inherent part of camping, like sunburns, bug bites and injuries that happen during daily activities.
Along those lines, we asked our campers via social media what gear they take with them when they hit the road. And some of the answers might surprise you:
KOA's Friends
Facebook friend Bryan Hensley has an emergency kit that's ready to go when he camps. That includes, he says, "a weather radio, a map of where we are, water, first aid kit [and] flashlights." He and fellow KOA Facebook friend Christine Boerner Jones also suggest bringing both extra propane and nonperishable foods."
In today's world, cellphones are a key part of not only day-to-day life, but also emergency preparedness. Keeping a printed list of emergency numbers to reference quickly is a must, especially if your cellphone battery dies and you need to get a hold of someone in an emergency. Also consider including an "ICE" (in case of emergency) contact name and number on your list, too.
Some campers who responded to our inquiries were also focused on some of the more basic needs, including toilet paper, propane, a good book, extra batteries, rain ponchos and, according to Emmy Reid, rain pants are a must. "I'm not sure why it took me 15 years to figure that out," she says.
Nancy and Tom Kilmer told us via Facebook that in addition to traditional emergency gear, they had another concern. "We travel with five cats and a cocatoo [sic]," they wrote, "so we have cat carriers and a carrier for the 'too." Cathy Gibbs, who has two dogs, makes sure that she brings along extra food for them as well.
More Tips:
Keep tabs on the weather forecasts.
Plan your meals in advance.
Stay on trails to avoid tick bites.
Pack a first aid kit.
Never approach wild animals (or your neighbor's dog).
Wear sunscreen and insect repellent.
Supervise your children. Campgrounds are safe places, but parenting is still a must.
Be careful around water. Never leave children unattended at a pool, river or pond.
Keep propane canisters upright, out of the sun and away from the campfire.
Keep the cooler full of ice.
Practice good fire safety, and keep it in the fire ring.
Be sure your campfire is never left unattended.
Wash your hands often.
Check your site for—and keep it clear of—sharp objects.
(By Mike Gast)
Filed Under: Blog
|
Tagged With: Camp Safety, Camping, Camping Tips