Posted by

A Security Insurance Agency

on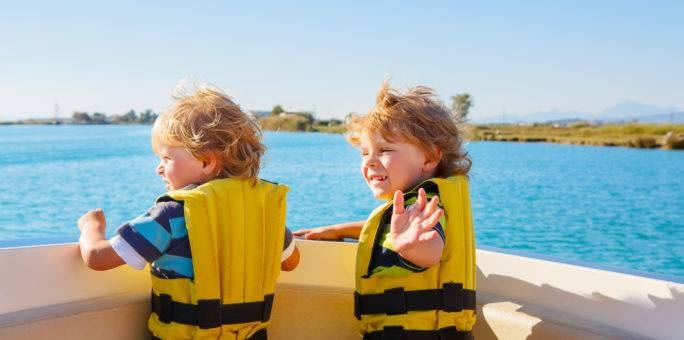 A day on the water can be an enjoyable experience no matter the season, but fun with family and friends can quickly turn if care isn't taken to avoid mishaps. Safe boating is possible, but does require a little planning before heading out and a careful eye once on the water. We've gathered the top six recommendations from some of the best sources on boating safety know-how.
1. Get the Gear…and Wear It!
The U.S. Coast Guard (USCG) reports that wearing a life jacket can likely contribute to saving lives. It is not only good policy to wear life jackets, but it's the law that to meet USCG requirements, all boats must have an approved life jacket for every person aboard. Boats longer than 16 feet must have a Type IV throwable safety float or ring, as well.
Some states have regulations regarding life jackets worn by children. Check with your state boating agency to determine age and flotation device requirements.
2. Prepare a Float Plan
What is a flat plan, why should you create one and who should you give it to? A good float plan includes information about your vessel, who's on board and where and when you will be on the water. The USCG says that there are too many facts that need to be accurately remembered and conveyed in an emergency situation. In the event of an accident or emergency, help will arrive sooner if somebody knows where you are on the water and when you are expected to return. Typically, the skipper of the vessel prepares the float plan, and it should be given to a reliable person who can be depended upon to notify the USCG or other rescue agency if you do not return or check in as planned.
3. Watch the Weather
Weather can change quickly on the water and can be a reason boaters get into trouble on the water. Consider checking the weather from local or national marine weather reporting agencies before heading out, and keep tabs on it once on the water by observing rapidly changing conditions and listening to a radio. If the boat ramp typically crowded with experienced fishermen and boaters is empty, there's probably a good reason.
4. Watch the Gas
Fueling up your boat can be dangerous. According to Boating magazine, following a few simple safety tips may help improve your safety when adding fuel to your favorite seaworthy vessel.
Insist that your guests (and crew) step ashore while you refuel. If something goes wrong, this may help limit potential injuries.
Close all hatches, since fuel vapors are heavier than air and can settle into the lower parts of the boat.
Know your tank's capacity and look at the fuel gauge before you fill up so you can stop the flow when you near the limit. Do not click on the ignition to check the gauge while filling.
When fueling, make sure to maintain metal-to-metal contact between the pump nozzle and your boat's fuel pipe. This grounds the nozzle and helps prevent static electricity.
Once you complete fueling, open your boat's hatches and sniff for gas fumes in the bilge and engine compartment. If you do not detect the smell of gasoline, run the bilge blower for five minutes before starting the engine. This does not apply to outboard motors, obviously.
5. Know How to Navigate Your Vessel
When navigating your boat, it's important to abide by the basic "Rules of the Road," as the USCG calls them, which are designed to keep boats from colliding into each other and with other objects.
Post a lookout. Designate a person to watch for dangers.
Maintain a safe speed. You must judge "safe speed" for yourself, except when waterways are marked "No Wake" or "Slow Speed." The USCG suggests you take into account visibility, traffic, weather conditions and your boat's maneuverability.
Avoid a collision. Overtaking, head-on situations and crossing the bow of another vessel. In each case, one boat is designated as the "give-way" vessel (which is required to yield) and the other is the "stand-on" vessel (which should maintain its course and speed). For specific details on navigation, consult the USCG's Aids to Navigation and remember that rules can vary slightly depending on if you're boating inland or international waters.
6. Don't Drink
Alcohol may affect the judgement, vision, balance and coordination of a boat operator, and according to the USCG, it may increase the likelihood of on-water accidents for both passengers and boat operators. The USCG and every state have penalties for violating boating under the influence (BUI) laws, including fines, suspension or revocation of boat operator privileges and jail terms, says the USCG. The USCG works in cooperation with state organizations in order to remove impaired boat operators from waterways. To avoid impairment and potential punishment, consider avoiding alcohol use altogether while operating a boat.
By following these tips, you're well on your way to having an enjoyable and safe boating adventure. Please chime in below on any tips we might have missed!
Filed Under: Blog
|
Tagged With: Boating, Boating Safety, Float Plan, Navigate